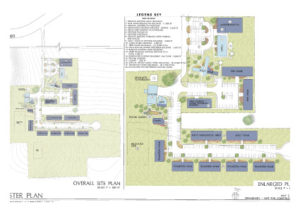 At our annual banquet on May 5, Annunciation Executive Director and Founder Christie Aaronson revealed our Master Plan, including Phase I expansions designed to immediately respond to the demands of our community.
"Last year we had 675 calls for help. We were able to help 72 and we had to turn away 603.
That is an extraordinary number. We turned away 603 young women. Why? Because we didn't have enough space.
We don't want to turn these women away….and I know that you don't.
So with lots of help from the Holy Spirit, an angel named Mr. Dutch Kellerman and an architect named Mr. George Jesek, our board has developed a long term master plan for the Annunciation community to help us serve as many women as possible. This plan includes development of our 23 acres over the many years to come…adding more homes for adults, more homes for teenagers and more transitional living homes. It includes an expanded high school facility and work program. It is truly a master plan for Life. It will be a community for women, pregnant and parenting who are searching for safety, healing and hope. And it will be able to accommodate up to 100 clients at one time.
This is a lofty plan, but with God's help and yours….it is a doable one.
In order to help more young women and save more lives we want to implement Phase 1 of this plan immediately. Phase 1 is a frugal plan which includes expansion of our adult house. This will include 6 bedrooms and 3 bathrooms added to the existing adult house, and a living room enlargement as well. With this growth also comes the need for additional space in our infant development center. Currently our center is located in our office building and is functioning at maximum capacity, due to limited space. To alleviate this problem as cost effective as possible, we want to renovate our warehouse and turn it into a child development facility that can not only accommodate our expansion needs but can also accommodate the needs of the local community and provide a best practice teaching facility to low-income single mothers.
These two expansion plans will provide long term help to many of the young women and babies that we regrettably have to turn away today."
The timeline for our expansion plans are coming soon!